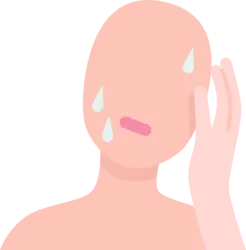 Tests For
fatigue

in Pune
A list of lab tests and other self-help tools for fatigue in Pune
What is fatigue
Extreme tiredness, usually caused by physical or mental exertion.
List of Lab Tests For fatigue
Erythrocyte sedimentation rate (ESR)
How will these tests help?
The group of tests you are undergoing will help us understand why you are feeling fatigued. We will be able to determine if any of your bodily systems or functions are not working as they should be
The first group of tests includes the Complete Blood Count (CBC), Thyroid-Stimulating Hormone (TSH), C-Reactive Protein (CRP), and Erythrocyte Sedimentation Rate (ESR). These tests look at your body's cell counts, metabolic systems, and inflammatory markers to help us rule out any underlying infections or disorders that could be causing your lethargy
The second group of tests looks at your body's nutrient levels, such as Ferritin, Vitamin B12, Iron and Total Iron Binding Capacity (TIBC), Electrolytes, and Fasting GlucoseInsulin. These tests can help us identify any deficiencies in your body that may be causing you to feel exhausted
We will also be running Renal Function Tests, Liver Function Tests, Creatinine Kinase (CK), Antinuclear Antibody (ANA), and Anti-Mitochondrial Antibody (AMA) tests to ensure all of your organs are functioning properly and to rule out any other potential causes of your fatigue.
Book Tests for fatigue in Pune
Pathofast offers Tests for fatigue at our center in Manisha Terrace, Moledina Road, Pune, Camp, India
Our lab in Pune, is known for its exceptional hygiene, polite staff and quick reports
Our Pune Center, is located close to the railway station and the Swargate Central Bus Depot, as well as the new Metro Lines
Please choose an option below to proceed with your booking:
Self Test for fatigue
Answer the following 3 questions to know whether you should get yourself investigated further

Do you feel excessively tired or lacking in energy

Do you have difficulty falling asleep or staying asleep

Do you feel tired even after a good nights sleep
List of symptoms associated with fatigue
Loss of energy

You may have noticed that you lack the energy you once had and that it takes more effort for you to do the same tasks.

Decreased motivation

You may have found yourself being less interested in activities that you used to enjoy and feeling less inclined to take part in them.

Sleep disturbances

You may have experienced difficulty falling asleep, staying asleep, or waking up feeling unrested.
List of home remedies for fatigue
Try these at home, only after consulting your doctor
Get adequate sleep

Ensure that the patient is sleeping 7

grade
Eat a healthy diet

Encourage the patient to eat a balanced diet filled with fruits, vegetables, whole grains, and lean proteins.

grade
Exercise regularly

Make sure that the patient is exercising for at least 30 minutes a day, five days a week. Low

grade