2nd Floor, Manisha Terrace, 411001, Moledina Rd, Camp, Pune, Maharashtra 411001
020 4930 4930 | 8956690418
support@pathofast.com
Pathofast Lab Pune | HIV, Semen, Home Blood Test
Book A Blood Test At Home in Pune
Pathofast Lab Pune is a
pathology lab
and
diagnostic center
that provides
home sample collection
for
blood test in Pune
, together with
online lab test booking
. 600+ tests include
Semen test
,
HIV Test
,
STD Tests
,
Vitamin D3 Test
,
Vitamin B12 Test
, Dengue Test, LFT Test,CBC, Urine and Stool Tests. Enter your name and mobile number to book tests online.
Best lab in Pune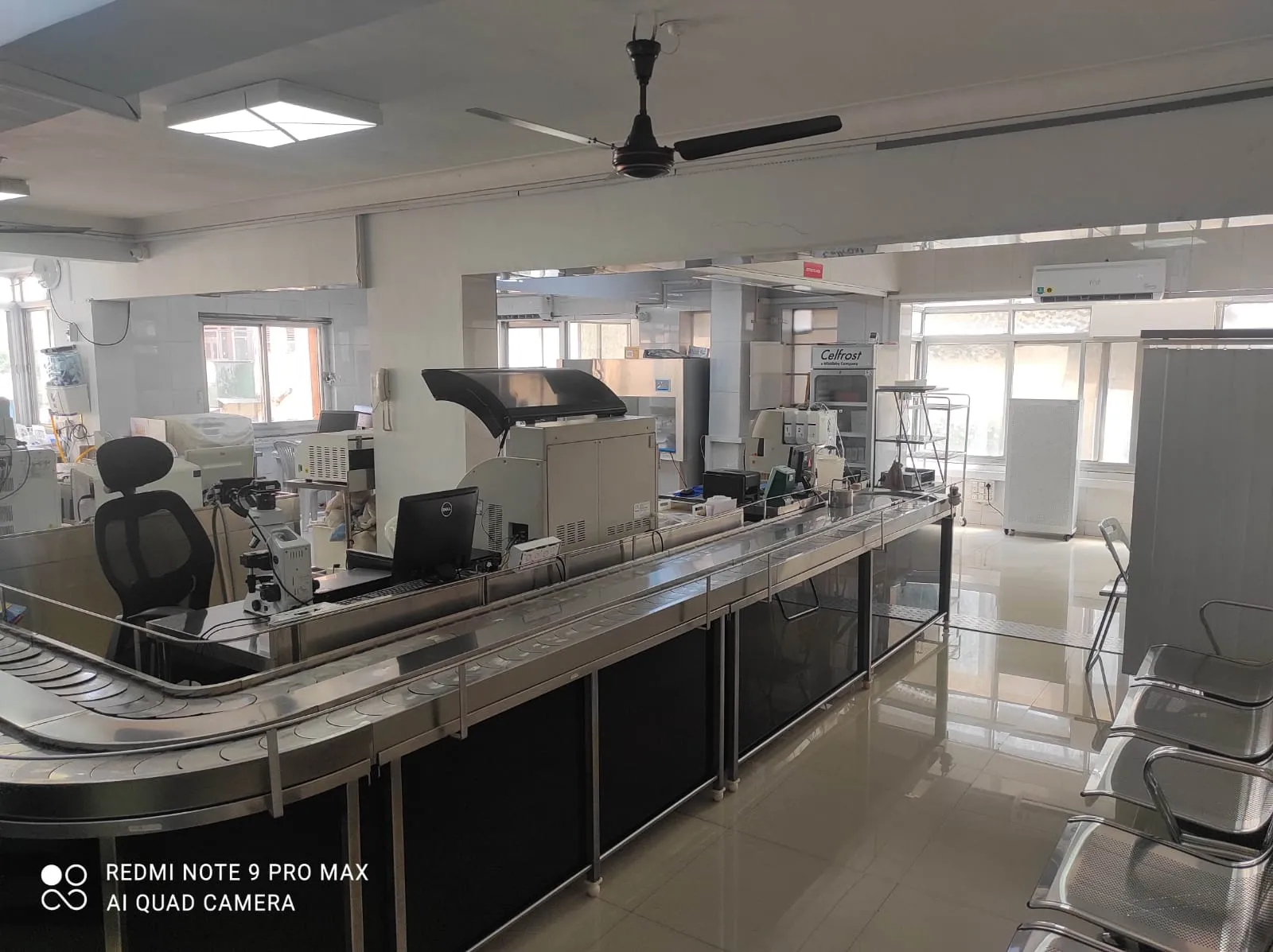 Pathofast Lab Pune, was judged as the best lab in Pune by 5BestInCity.com. Our laboratory uses the latest equipment, and trained staff to ensure a smooth blood test experience, either at home or in our center.
Find A Blood Test in Pune
We perform various blood tests like HIV Test, Semen Analysis Test, Vitamin D Test, Vitamin B12 Test, Fertilty Tests, Allergy Tests and Pregnancy Tests
Free home sample collection, with online booking is available at our lab.
Free Home Blood Sample Collection
If you are looking for a blood test at home in Pune, consider booking a home blood test through the best laboratory in Pune. With online blood test at home options, you can have your blood sample collected from the comfort of your own home. Take advantage of free home sample collection services.Pathofast offers home blood test near you in many parts of Pune City.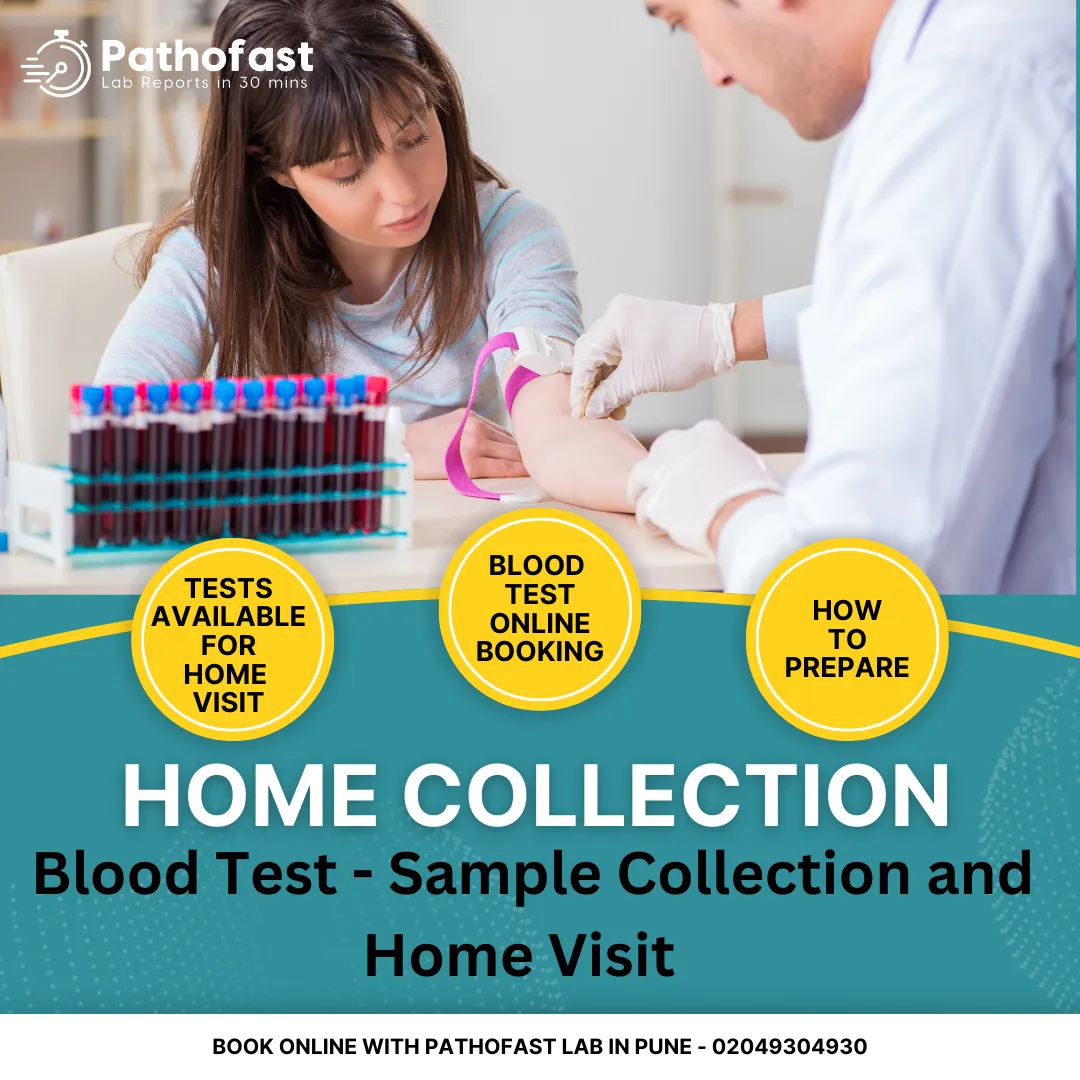 Online Appointment for Home Blood Test
To book an appointment for a home visit, you can call us, or book online. We request you to inform us a day before the requested visit date.
Blood Tests for which it is advisable to book well in advance are:
Appointment for Pregnancy Test
Timings and Locations for Home Sample Collection
Home Visit for Blood Sample Collection is offered from Monday to Saturday, 6 am to 6 pm. The lab is open on all major public holidays, except a few. Please visit our timings page to see the list of holidays.
Pathofast Lab offers free home sample collection facilities in Jangli Maharaj Nagar,Ravet,Viman Nagar,Shastrinagar, Yerawada,NIBM Undri Road, Kondhwa,Camp,Aundh,Baner,Dattwadi,Undri,Pimpri-Chinchwad,Kalyani Nagar,Koregaon Park,Sadashiv Peth
Preparing for a Home Blood Test
Watch our Animated Video on Preparing for a blood test at home, for information on whether to take your medicines,
Home Sample Collection For - HIV, Semen, Dengue and 50+ other tests
We offer home sample collection services for blood tests like HIV, Semen Analysis and Critical care tests like Dengue, Cardiac Markers and Electrolytes.
HIV Test - Rs.600.0

An HIV test is a blood test that checks if someone has been infected with the virus that causes AIDS.

Semen Test - Rs.1800.0

A semen test is a medical test that evaluates the quantity and quality of sperm in a mans semen sample.

Dengue NS1 and Antibodies - Rs.420.0

Dengue NS1 is a protein produced by the dengue virus that can be detected in the blood during early infection. Antibodies are proteins produced by the immune system in response to the virus.
6 Reasons to Choose Pathofast Lab for a blood test in Pune
Home Sample Collection
Pathofast Lab offers free home sample collection facilities at all parts of Pune City. The lab has a team of phlebotomists who are trained to carry out safe and effective sample collection from the convenience of your home.
Best Lab in Pune
Pathofast Lab has been judged as the best diagnostic center in Pune, by 5bestInCity.com. Our lab adheres to the best standards of quality and care in blood tests.
Online Lab Test Booking
Pathofast Lab offers online lab test booking with a simple pay and checkout facility. You receive all your reports online, with gaurenteed cloud storage for 5 years.
Blood Test for Babies and Children in Pune
Pathofast Lab offers quick turn around time and painless blood sample collection for babies and small children. Urgent CBC/hemogram and stool or urine tests are often required in small children and kids, and we pride ourselves in delivering most routine reports within 1 hour. If your child needs a quick lab test in Pune, make sure you visit Pathofast.
Lab Test Packages in Pune
Pathofast Lab offers a wide variety of blood test packages, ranging from diabetes to PCOD packages and Annual Body Checkup Packages.
Accurate and Reliable Path Lab
Our lab test results are accurate, timely and reliable. We are trusted by over 100 clinicians and doctors in Pune, for critical reports ranging from urgent Platelet Counts, to cardiac care tests.
Frequently Asked Questions
filter_dramaWhere is the lab located?

Pathofast Lab Pune, is located in Camp. This is a centrally located area, within 15-20 minutes of the airport, railway station and major suburbs of Pune. The detailed address can be found at our

Location Page

placeWhat are the timings of the lab?

The lab timings are from Monday-Saturday 8am to 6pm. The lab is open on most major holidays. Our detailed timings may be found at our Timings Page

whatshotAre insurance claims accepted for the blood tests at your lab?

Our labs receipts are usually accepted by major insurance providers. We support our patients with any additional paperwork or documentation that may be needed for insurance claims. Preoperative lab checkup claims usually pass without incident.

whatshotWhat are the charges for home visit for sample collection

Home visits are performed free of charge to most locations of Pune City. In case of fasting and PP sugar, where 2 visits are required, the second visit is charged at Rs.100. Also visit charges are levied for pure transport of samples like (semen, urine or stool, where blood collection is not required)

whatshotCan I book tests online

Yes, we offer an online booking platform, where you can directly book your tests without having to call the lab. Please refer to our Book Lab Test Online Page for further information.
Patient Feedback About Blood Test in Pune
S.Hira

I was very impressed with my first time experience at Pathofast..The lab is equipped with the state of the art equipment..Special mention for the technician who attended to me..very gentle and polite...reports were also sent promptly...Definitely one of the best

S.Shete

Honestly it was such a clean and neet place, no waste of time and direct on point and so soft-spoken attentives ,and it was so painless and smooth ,unlike others who just do it for the sake of job .i would highly highly recommend it

J. Oberoi

The Lab service is fantastic. I really appreciate the home visit appointment communication from the lab, the punctuality of the Technician to collect the samples, Getting reports On Time. Wonderful services. Impressed by Ajay's complete communication and connectivity with the patient. Hygieness is Awesome. Soft spoken. All the best.
Videos From Our Youtube Channel
Sperm Motility Test Explained in Hindi

CBC Test or Hemogram Test Explained in Marathi

HIV Test Explained in 15 seconds
Blogs - Our Newest Content Written By Doctors
We blog about health related articles and help you understand your blood tests
Video Tests
Try these at home - no equipment needed, and diagnose yourself! Its free
Location | Map Directions and Contact Number
Feel free to contact us during lab hours our message us on watsapp. We will get back to you as soon as possible!
Address
2nd Floor, Manisha Terrace, 411001, Moledina Rd, Camp, Pune, Maharashtra 411001
Mobile Number
+91 8956690418
Landline
+91 02049304930
Chatbot
+91 8956690420
Lab Test Charges in Pune - Price List
| | |
| --- | --- |
| Anemia Profile- Maxi including Hemolytic workup (CBC, Reticulocyte count, Iron,TIBC, B12, Folic Acid, Transferrin Saturation, Ferritin, Abnormal Hb studies, G6PD Quantitative, Haptoglobin, Osmotic fragility, Coomb's-direct) cost Pune | 6750.0 |
| Thyroid Profile | T4,T4,TSH cost Pune | 420.0 |
| Serum Albumin Test cost Pune | 130 |
| Alkaline Phosphatase Test cost Pune | 180 |
| Blood Urea Nitrogen Test cost Pune | 110 |
| Bilirubin - Total, Direct, Indirect cost Pune | 180.0 |
| Serum Calcium Level cost Pune | 220.0 |
| Serum Chloride Level cost Pune | 230.0 |
| HDL Cholesterol Test cost Pune | 290 |
| LDL Cholesterol Test cost Pune | 420 |
| VLDL Cholesterol cost Pune | 210 |
| Creatinine Test cost Pune | 230 |
| Gamma Glutamyl Transferase (GGT) cost Pune | 280.0 |
| Random Blood Sugar Test cost Pune | 110.0 |
| HIV Test cost Pune | 600.0 |
| Hepatitis B Antigen Test cost Pune | 600.0 |
| Serum Homocysteine cost Pune | 1300.0 |
| Iron studies Test | Fe TIBC cost Pune | 470.0 |
| LDH Test cost Pune | 600.0 |
| Serum Lipase cost Pune | 650.0 |
| cost Pune | 650.0 |
| Total PSA Level cost Pune | 950.0 |
| Phosphorous Test cost Pune | 210 |
| Potassium Test cost Pune | 550 |
| AST/SGOT Liver Test cost Pune | 130 |
| ALT - Alanine transaminase (SGPT - Serum Glutamic Pyruvic Transaminase) cost Pune | 200.0 |
| Sodium Test cost Pune | 600 |
| Routine Examination, Stool cost Pune | 150.0 |
| Total-T3 Test cost Pune | 260 |
| T4-Total or Thyroxine Test cost Pune | 260 |
| TSH Test cost Pune | 230 |
| Lipid Fraction - Triglycerides cost Pune | 290 |
| Serum Urea Test cost Pune | 210 |
| Serum Uric Acid Test cost Pune | 310.0 |
| ACR Test cost Pune | 550.0 |
| Urine Routine Test cost Pune | 300.0 |
| Vitamin B12 Test cost Pune | 800.0 |
| Vitamin D Test cost Pune | 1900.0 |
| Kidney Profile cost Pune | 550.0 |
| Liver Function Tests cost Pune | 1040.0 |
| PT INR APTT Test cost Pune | 950.0 |
| Semen Test cost Pune | 1800.0 |
| Stool Routine Test cost Pune | 594.4000000000001 |
| Conjunctival Cytology cost Pune | 310 |
| CBC-Complete Blood Count cost Pune | 300.0 |
| ESR Test cost Pune | 210.0 |
| Beta HCG Test cost Pune | 900.0 |
| Double Marker Test cost Pune | 2900.0 |
| Triple Marker Test cost Pune | 2900.0 |
| FSH, LH, Prolactin Test cost Pune | 1300.0 |
| Thyroid Antibodies Profile cost Pune | 1900 |
| Combined Allergy Test cost Pune | 12900.0 |
| Common Veg Food - Allergen Test cost Pune | 8900.0 |
| Non-Veg Food Allergen Test cost Pune | 7400.0 |
| Asthma Allergen Test cost Pune | 9400.0 |
| Serum Folate cost Pune | 1100.0 |
| AMH - Anti Mullerian Hormone cost Pune | 1900.0 |
| Sugar Fasting PP cost Pune | 210.0 |
| HBA1C Test cost Pune | 800.0 |
| Prostate Profile cost Pune | 1600 |
| Cancer Marker CA -19 9 cost Pune | 1200.0 |
| Cancer Marker - CA 15-3 cost Pune | 1200 |
| Carcino Embryonic Antigen-CEA cost Pune | 850 |
| Lipid Profile cost Pune | 850.0 |
| VDRL Test | RPR cost Pune | 600.0 |
| Total Antibodies to HCV Test cost Pune | 1300.0 |
| IgG - Herpes Simp 2 Antibodies cost Pune | 700 |
| HIV-p24 Antigen Test cost Pune | 1100 |
| HIV-1-RNA Detection Test cost Pune | 4100 |
| HIV-2-RNA Test cost Pune | 5500 |
| Anti-Hbs Antibodies cost Pune | 1100 |
| Total Anti-HBc Antibodies Test cost Pune | 1100 |
| Anti HBe-Antibodies Test cost Pune | 1100 |
| TPHA - Syphilis Haemagglutination Test cost Pune | 650.0 |
| Dengue NS1 and Antibodies cost Pune | 420.0 |
| Malaria Test cost Pune | 160.0 |
| Widal Test cost Pune | 370.0 |
| High Sensitivity CRP cost Pune | 550.0 |
| RA-Factor Test cost Pune | 550 |
| Anti-CCP Test cost Pune | 1500.0 |
| Troponin-I Test cost Pune | 1700.0 |
| NT-Pro BNP Test cost Pune | 3100.0 |
| ANA Test cost Pune | 800 |
| ANA Blot 17 antigens cost Pune | 4700.0 |
| Complement Levels - C3, C4 cost Pune | 1100 |
| FSH cost Pune | 550.0 |
| LH Test | Leutinising Hormone cost Pune | 550.0 |
| Prolactin Test cost Pune | 550 |
| Testosterone Test cost Pune | 700.0 |