2nd Floor, Manisha Terrace, 411001, Moledina Rd, Camp, Pune, Maharashtra 411001
support@pathofast.com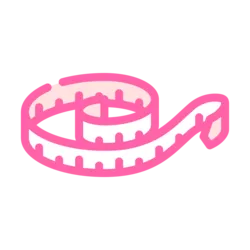 Troponin-I Test in Pune
Price, Symptoms, Normal Range
Troponin-I test is a blood test used to detect heart muscle damage and diagnose heart attacks. It costs Rs.1700.0 . The normal range for adult males is 0.0-20.0,the normal range for adult females is 0.0-15.0
Updated At : 2023-11-11T19:24:52.445+05:30
1 Key Points
When is the right time to test Troponin-I levels?

Troponin-I is elevated following heart muscle damage. This is usually after a reduction in the blood supply to the heart as is seen in a heart attack.
The levels of troponin-I should be tested within 12 hours of the suspected heart attack. They remain eleveated for several days.
Troponin I is a confirmatory test for heart muscle death.
What is Troponin-I Test
The Troponin-I test is a blood test that measures the level of troponin-I protein in the blood. Troponin-I is a protein that is released into the bloodstream when there is damage to the heart muscle. The test is performed by taking a blood sample from a vein in the arm and sending it to a laboratory for analysis. The results of the test can help diagnose a heart attack or other conditions that cause damage to the heart muscle.
Learn Through Our Videos
Do I need this test?
Let's find out whether you need the Troponin-I Test test. Answer the following 5 questions and get a free instant result!

Have you recently experienced chest pain or shortness of breath

Are you experiencing any fatigue or weakness

Are you currently taking any medications for your heart health

Have you recently suffered any trauma or injury to your chest

Have you recently had any surgeries to your heart or chest area
Which symptoms are related to Troponin-I Test?
If you have Symptoms,Chest Pain,Shortness Of Breath,Fatigue,Dizziness, you may need to get tested.
Here is the complete list of symptoms
Who should do this test?
Individuals who are experiencing chest pain or other symptoms that may suggest a heart attack.
Patients who have been diagnosed with a heart condition or are at high risk for developing one, such as those with a family history of heart disease.
Patients who have recently undergone cardiac surgery or other invasive cardiac procedures.
What to do if the test is abnormal?
Seek immediate medical attention: An abnormal Troponin-I test result indicates damage to the heart muscle, which could be due to a heart attack or other cardiac conditions. It is important to seek immediate medical attention to determine the underlying cause of the abnormal result and receive appropriate treatment.
Follow your doctors recommendations: Your doctor may recommend further testing, such as an electrocardiogram (ECG) or imaging tests, to confirm the diagnosis and determine the extent of the damage. They may also prescribe medications or procedures, such as angioplasty or bypass surgery, to restore blood flow to the heart muscle and prevent further damage.
Make lifestyle changes: Depending on the underlying cause of the abnormal Troponin-I test result, your doctor may recommend lifestyle changes to reduce your risk of future cardiac events. This may include quitting smoking, eating a heart-healthy diet, exercising regularly, managing stress, and taking medications as prescribed.
In which diseases is Troponin-I Test abnormal?
Acute coronary syndrome

Cardiomyopathy

Myocarditis

Aortic dissection

Pulmonary embolism

Severe heart failure

Pericarditis

Takotsubo cardiomyopathy
What is the normal range of - Troponin-I Test
The normal range for adult males is 0.0-20.0,the normal range for adult females is 0.0-15.0
Normal Ranges in Males

| Age | Range |
| --- | --- |
| >= 0 years | 0.0-20.0 |

Normal Ranges in Females

| Age | Range |
| --- | --- |
| >= 0 years | 0.0-15.0 |
Interpretation
Currently no interpretation details are avaialble for this report.
Treatment options
Currently no treatment options details are avaialble for this report,check back later or consult your doctor
Technical information
| | |
| --- | --- |
| LOINC Codes | 14879-1 |
| Sample Type Required | serum |
| Principle of Measurement | ELFA |
| Units of Measurement | ng/L |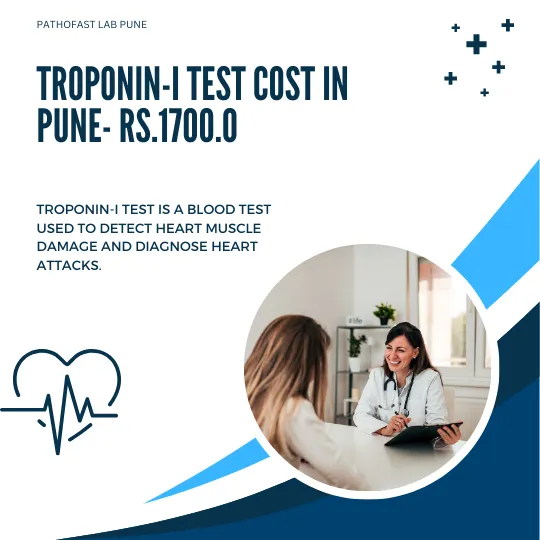 What is the Cost of Troponin-I Test?
The test costs Rs.1700.0
Details about cost price of Troponin-I Test

Free home visit for sample collection for Troponin-I Test in all parts of Pune City is included in the cost price.
Kindly note that we do not charge any visit charges as most other labs. This is because the cost of Troponin-I Test in Pune is already high and we do not wish to levy additional charges on patients.
The cost price of Troponin-I Test is updated only in case of sudden changes in government rules. You are requested to check the latest cost price of Troponin-I Test as charged by Pathofast on this page.
All online forms of payment are available at our lab, including Gpay, Payumoney, credit and debit card as well as cheque payment.
How to book Troponin-I Test in Pune?
Pathofast offers Troponin-I Test at our center in Manisha Terrace, Moledina Road, Pune, Camp, India
Our Pune Center, is located close to the railway station and the Swargate Central Bus Depot, as well as the new Metro Lines
Please choose an option below to proceed with your booking:
300+ 5-star reviews on Google
Near which locations or areas of Pune is Troponin-I Test available?
Pathofast offers lab test service for Troponin-I Test near : Camp, Koregaon Park, Kalyani Nagar, Viman Nagar, Aundh, Baner, FC Road, Tilak Road, Ravet, Aundh, Pimpri Chinchwad, Nagar Road, Dhole Patil Road.
What are the Advantages of choosing a lab near you for blood test services?

Choosing a nearby lab reduces the time it takes for the sample to be transported
This leads to reduced sample deterioration.
While most patients are unaware, blood samples must be transported under strictly controlled temperature, and choosing a lab near you makes this easier to achieve.
Even if the lab does not adhere to temperature control, the time spent between sample collection and analysis reduces and this is more likely to produce more accurate results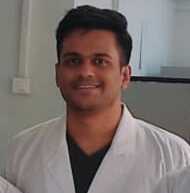 Dr.Bhargav Raut is a qualified Pathologist, with over 5 years of experience in the field
Kindly note that any mention of products, doctors or hospitals in any of our blogs/content is purely for informational purposes and does not imply affiliation or endorsement.