2nd Floor, Manisha Terrace, 411001, Moledina Rd, Camp, Pune, Maharashtra 411001
support@pathofast.com

HIV Test in Pune
Price, Symptoms, Normal Range
An HIV test is a blood test that checks if someone has been infected with the virus that causes AIDS. It costs Rs.600.0 . The normal range for adult males is Non-reactive,the normal range for adult females is Non-reactive
To Prepare for this test:
Remember that the HIV antigen test may be negative if you were infected within the last 30 days, and the antibody test may be negative for upto 6 months. This is called the window period.

Inform the lab if you recently received a blood transfusion, have had a needle stick injury or were exposed to body fjluids of an HIV positive patient in the near past.

Read the pre-test counselling guidelines on our blogs page, and sign the test consent form before providing your sample.
What to expect during HIV Test in Pune - Step by Step Guide
1. Book An Appointment For HIV Test in Pune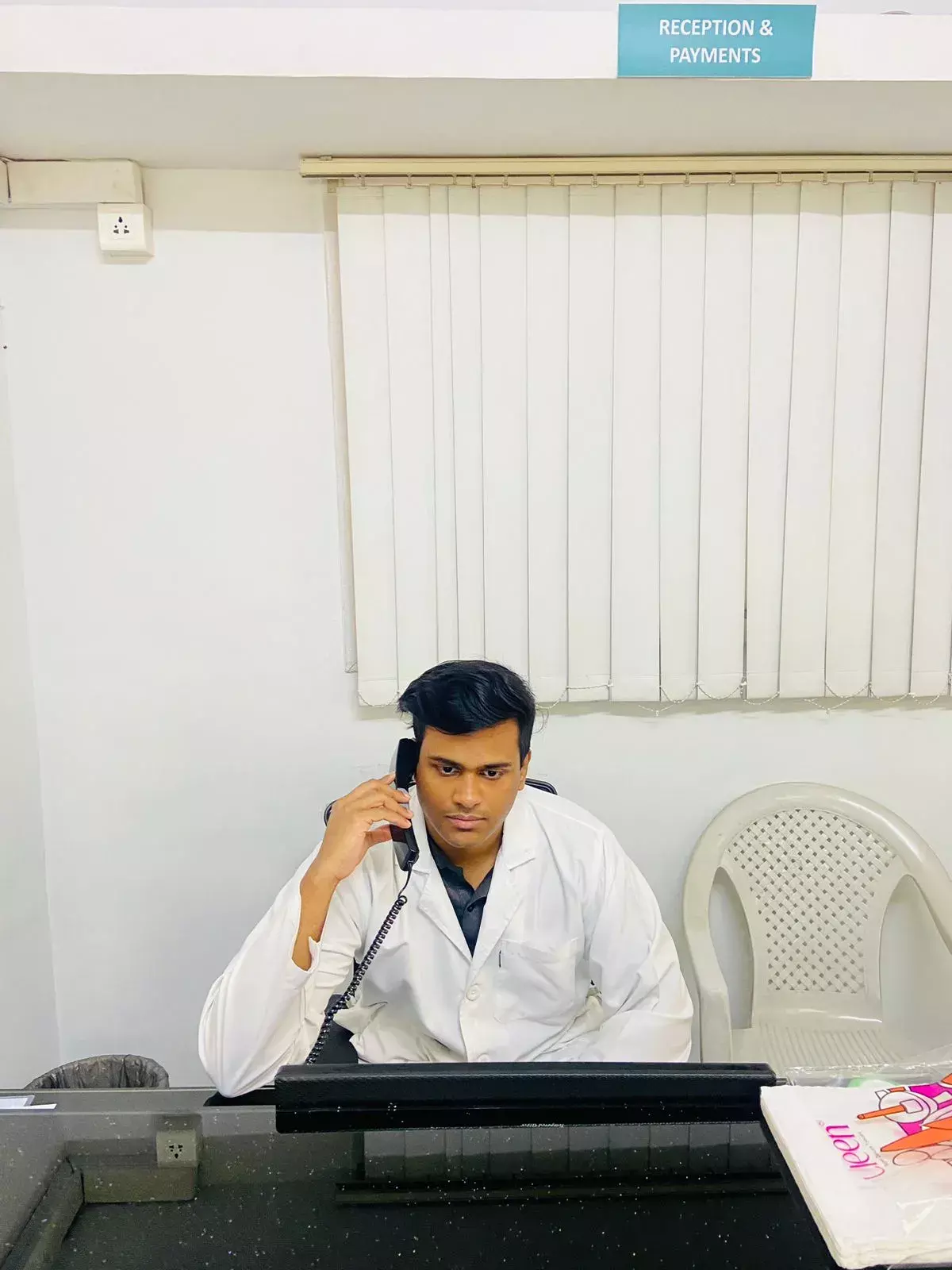 Call our reception at
02049304930
or
8956690418
or book online.
2. Fill Up the Consent form for HIV Test in Pune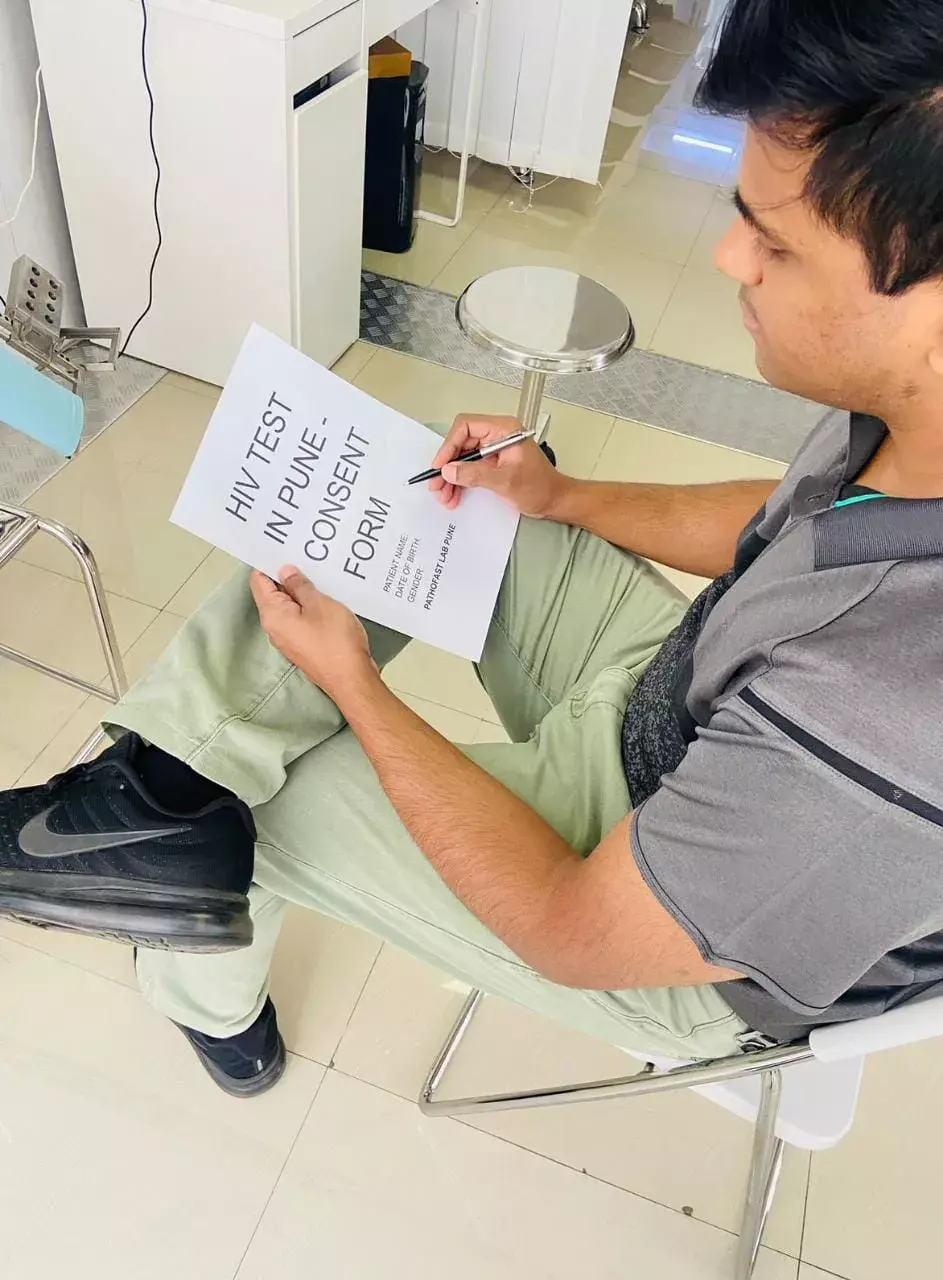 You need to sign the consent form, that allows the lab to perform your HIV Test. This reflects the NACO guidelines, that may be found at this link
National Aids Control Organization India HIV Test Guidelines
3. Lab Technician Prepares Requisition for HIV Test in Pune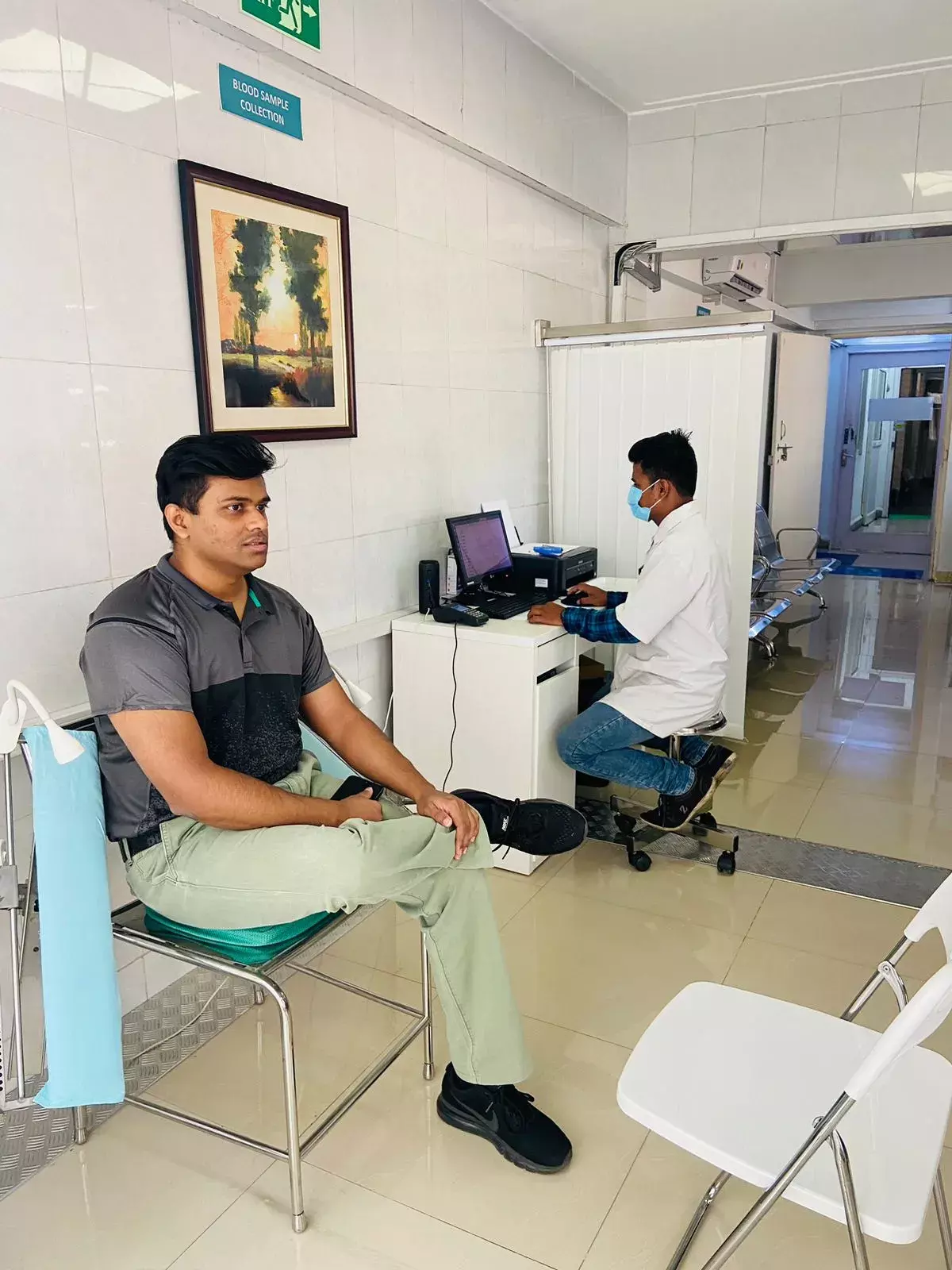 The lab technician will create a record for you in our lab information system, that allows for a test requisition form to be generated.
4. HIV Test in Pune - Sample Preparation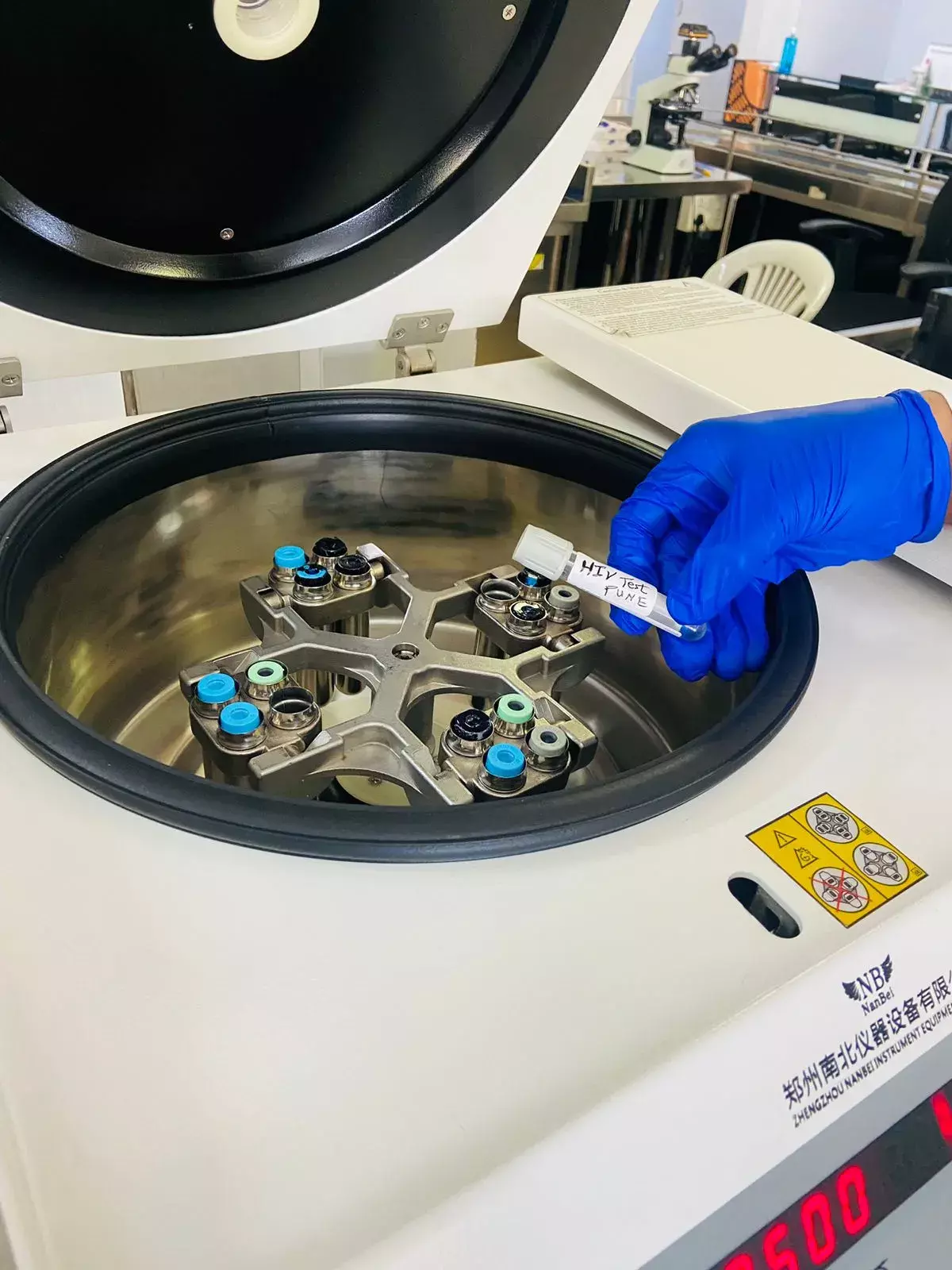 The HIV Test sample will be allowed to clot, and then centrifuged prior to further processing.
5. HIV Test - Negative Test Example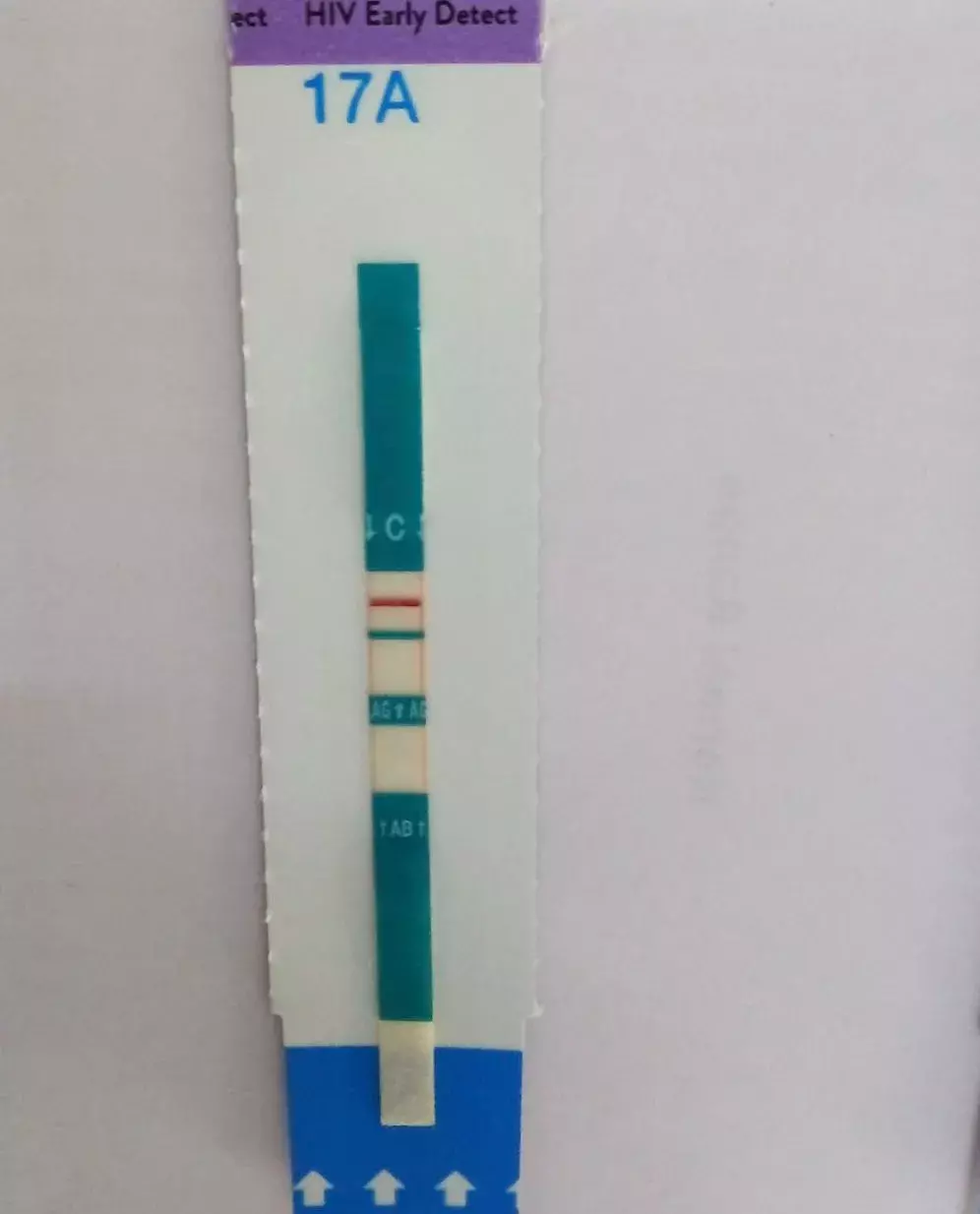 Example of a negative result, this was performed using lateral flow immunochromatography and a 4th generation HIV Test, that checks for p24 antigens and antibodies.
Updated At : 2023-11-11T19:24:52.441+05:30
3 Key Points
What is the normal range of HIV test by quantitative method?

The normal range by quantitative methods depends on the assay used. By CLIA Technique the normal range is reported between 0 to 0.9. By the CMIA method the normal range is 0 to 1.0 S/CO.
How is HIV Testing done in pregnancy?

An HIV test is normally done in every trimester of pregnancy. (once every 3 months). It may also be required prior to hospital admission for delivery.
Women trying to conceive with HIV positive partners, should also get regularly tested for HIV.
Newborns will show a negative test result as antibodies take upto 6 months to develop.
How soon after the exposure will this test be positive?

This test will start to show positive around 2-3 weeks or 19-21 days after exposure. The highest chances of testing positive are around day 43 to 45 of the infection.
What is HIV Test
HIV test is a medical test that detects the presence of HIV antibodies or antigens in the blood, saliva, or urine. The test is performed by collecting a sample of the patients bodily fluids and sending it to a laboratory for analysis. The most common tests used are ELISA, Western blot, and rapid tests. It is recommended that everyone should get tested for HIV at least once in their lifetime.
Learn Through Our Videos
Do I need this test?
Let's find out whether you need the HIV Test test. Answer the following 5 questions and get a free instant result!

Have you ever had unprotected sex or shared needles with anyone

Have you ever had a blood transfusion

Are you receiving any treatment for any other medical condition

Have you ever been tested for HIV before

Do you have any symptoms of HIV infection such as fever, fatigue, or night sweats
Which symptoms are related to HIV Test?
If you have Symptoms Of Hiv Infection May Include,Fever,Fatigue,Swollen Lymph Nodes,Rash, you may need to get tested.
Here is the complete list of symptoms
Who should do this test?
People who engage in high-risk behaviors such as unprotected sex, sharing needles, or having multiple sexual partners.
Pregnant women to protect the unborn child from infection.
Individuals who have symptoms of HIV, such as fever, fatigue, and weight loss, even if they are not considered high-risk.
What to do if the test is abnormal?
Firstly, it is important to stay calm and not panic. An abnormal result does not necessarily mean that a person has HIV. However, it is important to seek further medical advice and testing to confirm the result.
The next step would be to schedule an appointment with a healthcare provider who has experience in HIV testing and treatment. They can provide guidance on additional testing, explain the result, and discuss treatment options if necessary.
It is also important to inform any sexual partners about the result and encourage them to get tested for HIV as well. This can help prevent the spread of the virus and ensure that everyone receives appropriate treatment and care.
In which diseases is HIV Test abnormal?
HIVAIDS

Opportunistic infections

Tuberculosis

Oral thrush

Kaposis sarcoma

Cytomegalovirus

Herpes simplex virus

Hepatitis B

Cryptococcal meningitis
What is the normal range of - HIV Test
The normal range for adult males is Non-reactive,the normal range for adult females is Non-reactive
Normal Ranges in Males

| Age | Range |
| --- | --- |
| >= 0 years upto 6 months | Not Established in literature : Please use clinically applicable range |
| >= 6 months | Non-reactive |

Normal Ranges in Females

| Age | Range |
| --- | --- |
| >= 0 years upto 6 months | Not Established in literature : Please use clinically applicable range |
| >= 6 months | Non-reactive |

HIV Test PDF - Sample Format Click Here to download a PDF of a dummy report. This is what a real patient report would look like, after the sample has been processed.
Interpretation
What is a false negative result?
A false negative result in case of an HIV test means a test that is negative, despite the patient being infected with HIV. A false negative test is possible in the early stages of HIV (upto 40-45 days), when the levels of the viral antigen or antibodies are too low to be detected by most tests.
What is a false positive result?
A false positive HIV test is when a patient who is not infected with HIV, has a positive test result. False positives are possible in patients who have recently received live viral vaccines for other viruses, those who are immuno-compromised, or in some autoimmune diseases. Most laboratories will not report a single test as positive, unless the finding is confirmed on another sample using a different test method.
If I test negative for HIV does it mean I am also negative for other Sexually Trasmitted Diseases?
A negative HIV Test does not rule out other infections. Read more about getting an
STD Test in Pune
. Each STD test looks for a specific virus or pathogen and has nothing to do with the others.
What are the right tests to do depending on days of exposure after HIV?
Refer to our blogs in the table below :
Treatment options
Currently no treatment options details are avaialble for this report,check back later or consult your doctor
Technical information
| | |
| --- | --- |
| LOINC Codes | 48345-3 |
| Sample Type Required | serum,plasma |
| Principle of Measurement | Lateral Flow Immunochromatography |
| Units of Measurement | - |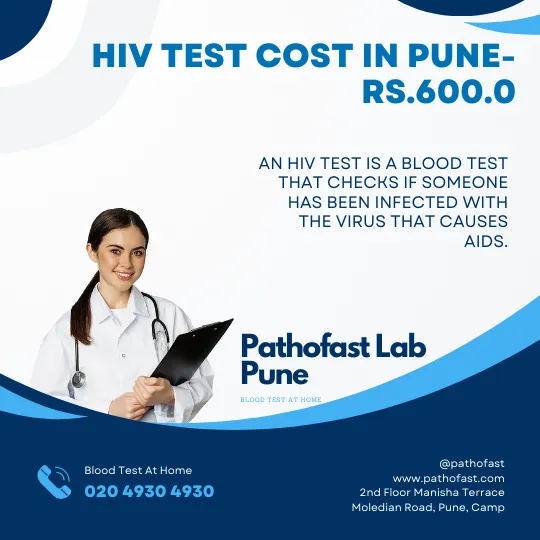 What is the Cost of HIV Test?
The test costs Rs.600.0
Details about cost price of HIV Test

Free home visit for sample collection for HIV Test in all parts of Pune City is included in the cost price.
Kindly note that we do not charge any visit charges as most other labs. This is because the cost of HIV Test in Pune is already high and we do not wish to levy additional charges on patients.
The cost price of HIV Test is updated only in case of sudden changes in government rules. You are requested to check the latest cost price of HIV Test as charged by Pathofast on this page.
All online forms of payment are available at our lab, including Gpay, Payumoney, credit and debit card as well as cheque payment.
How to book HIV Test in Pune?
Pathofast offers HIV Test at our center in Manisha Terrace, Moledina Road, Pune, Camp, India
Our Pune Center, is located close to the railway station and the Swargate Central Bus Depot, as well as the new Metro Lines
Please choose an option below to proceed with your booking:
300+ 5-star reviews on Google
Near which locations or areas of Pune is HIV Test available?
Pathofast offers lab test service for HIV Test near : Camp, Koregaon Park, Kalyani Nagar, Viman Nagar, Aundh, Baner, FC Road, Tilak Road, Ravet, Aundh, Pimpri Chinchwad, Nagar Road, Dhole Patil Road.
Locations for free home sample collection near you in Pune for HIV Test
Pathofast Lab Pune offers free home sample collection in the areas on the map for HIV Test. Find directions now or use the online booking links.
What are the Advantages of choosing a lab near you for blood test services?

Choosing a nearby lab reduces the time it takes for the sample to be transported
This leads to reduced sample deterioration.
While most patients are unaware, blood samples must be transported under strictly controlled temperature, and choosing a lab near you makes this easier to achieve.
Even if the lab does not adhere to temperature control, the time spent between sample collection and analysis reduces and this is more likely to produce more accurate results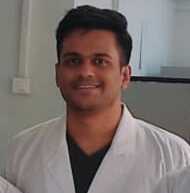 Dr.Bhargav Raut is a qualified Pathologist, with over 5 years of experience in the field
Kindly note that any mention of products, doctors or hospitals in any of our blogs/content is purely for informational purposes and does not imply affiliation or endorsement.